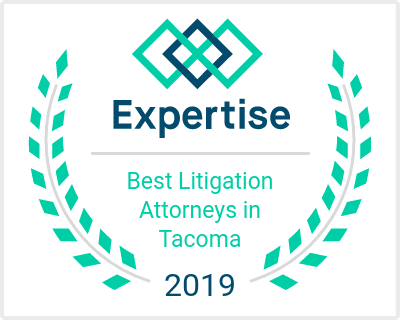 A graduate of the University of Montana School of Law, Lacey has devoted nearly fifteen years to the practice of municipal law. For ten years she was a senior assistant city attorney and senior legal planner for the City of Bellevue, representing the land use, code enforcement, and utility departments. Prior to that she served as a senior legal planner to the City of Bellevue's Land Use Department, which allowed her to be embedded with land use, building, and environmental planners. Before coming to the City of Bellevue she worked for Kenyon Disend, PLLC and served as city attorney to the cities of Roslyn and Algona, and assistant city attorney for DuPont and Tukwila. In these roles, she handled a myriad of land use issues, including client advising, project review, code drafting and interpretation, and litigation of all varieties of land use matters. Lacey has ample experience drafting shoreline, critical area, and NPDES requirements.
"I first came in contact with Lacey as opposing counsel on a land use matter; and I found her to be thorough, responsive, bright, cordial, creative, and respectful of the legal process. To the extent that it's ever an enjoyable experience to work with a lawyer, it would be a pleasant experience to partner with Lacey Hatch."
— G. Richard Hill, Partner, McCullough Hill Leary, P.S., Seattle
As a senior legal advisor to her municipal clients in the areas of land use and code enforcement, Lacey made presentations to the Washington State Association of Code Enforcement and the Association of Municipal Attorneys. In addition, she appeared before numerous planning commissions, utility boards, city councils, and committees of the Washington State Legislature.
The Montana native and current Gig Harbor resident says she takes great satisfaction working with "conscientious and innovative developers, land owners, and businesses looking to enhance existing communities with amenities, best practices and, when feasible, affordable housing."
"My work over the years with land use planners, city administrative staff, and land use departments on federal and state regulatory issues has brought me an in-depth knowledge and understanding of all aspects of project review, code drafting, code interpretation, and litigation." she notes. "As a member of the Phillips Burgess legal team, I look forward to representing private land use and environmental clients and believe my extensive public sector law experience will serve them well."
"Three important things I have learned about the practice of law: Talk less, listen more, get to the point, come fully prepared - and early."

— Lacey Hatch
Outside of the practice of law, Lacey volunteers at Madigan Army Medical Center to mentor patients with varying stages of digestive disease. She enjoys gardening, cooking, and exploring the Pacific Northwest with her husband, two children, and her beloved pug, Mr. Loyd.
Admitted to Practice In:
Education:
University of Montana, Alexander Blewett III School of Law, J.D., 2003

University of Montana, B.A., 2000
Professional Affiliations:
Washington State Bar Association

Washington State Association of Municipal Attorneys

Municipal Research and Services Center

Washington State Association of Code Enforcement
Community Connections:
Madigan Army Medical Center, Volunteer & Mentor for Patients with Digestive Disease